Its not often that I try something out for the first time and completely endorse the product.
I ordered these boots for several reasons for some of the bells and whistles and found more once I put them on:
Korkers Chrome Wading Boots
There are no laces
. There is a ratchet system that cranks a metal wire over the front of the boot and tightens. There are no dirty laces to grit up your hands. There is no worry about laces freezing. No worry about laces breaking or the ends fraying.
The soles are interchangeable.
If I'm fishing in the boat I can slide in and lock down the sticky rubber sole. If I'm fishing out of the boat I can quickly switch out the sticky rubber sole with studs. Same goes if I have to go into a gas station or grocery store. Studs are dangerous on that linoleum. If I'm starting the day with walking on rocks, I can be sure to have on the studded sole and get some good traction.
Ease of on and off.
I can slide my neoprene booty in the boot and click the ratchet system to tighten. Its fast and efficient. Example. I put my boots on outside the front door. I realized I forgot all my rod tubes inside. I sat down and popped out the ratchet, slid out my neoprene booties, walked into the house, grabbed the rods, went back out, and put the boots back on and tightened. All in a matter of seconds.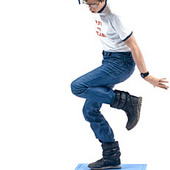 The boots are light weight
.They feel like those moon boots I wore as a kid. I could probably walk all day in them and not fee fatigued. I've only worn them on short trips and the light weight is quite noticeable.
The toe box is tough
. What does that mean? You can kick rocks around and move through the water with out fear of busting your little piggies.
They are comfortable.
That is a huge plus. I have worn them all day and barely noticed them on. No foot fatigue under the arch, no toes bunched up. No rubbing on the ankle.
I ordered these for my recent trip to the Salmon River. Of course with my luck they showed up the day after I got back. For sizing, I wear a 10-10.5 shoe. I got the size 11 so there is extra room to wear socks and have space in the winter time.
The variety of interchangeable soles.