One of our good friends "Mango" is deploying for the Air Force in a few days. Luckily he is going to Peru and not a war zone. He and his awesome wife Shante threw a Christmas party for him last night as he will be out of the country during Christmas. I really wanted to wear my snowmen sweater but it went to storage a few weeks ago when the man cave was cleaned out for the baby's room. I was left with my Ralphie "Oh-Fudge" shirt from A Christmas Story.


As THW was preggers last winter, she was unable to enjoy the festive holiday beers. So I picked up a few six packs of Anchor Christmas Ale and put them in the closet for her for after baby lady arrived. Well the baby arrived and THW started to drink again. However, a holiday ale just does not taste good in the summer. Thus that was item no. 1 in our white elephant bag. I went to the dollar store and got some more items:

canned vienna sausages
canned ham
garbage pail kids cards
whoopee cushion
jingle bells
Thus the bag was already heavy from the weight of the beer and it made noise from a bag of jingle bells being dumped inside of it. It was a crowd pleaser. It was dubbed 'hurricane survival kit." Last year I put a bottle of Corona I found in the gutter and a 4 gallon can of nacho cheese in the gift bag.
THW picked number 8 out of 20 and got a redneck wine glass and a bottle of Boones Strawberry Hill (Score!). Some of the other things people got were a foot scrubber, a pink marabou flamingo, beer kit, ice shot glass kit, pillows, a stuffed elephant, dollar bill paper airplane kit, etc.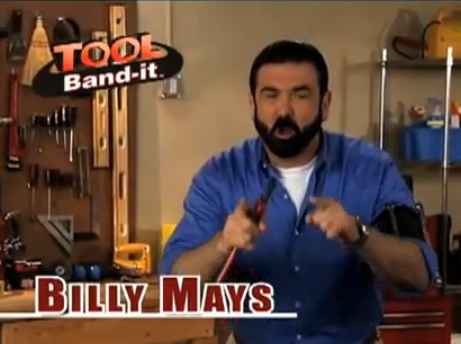 Mango picked and got a Tool Bandit. This is the magnetic arm band from As Seen On TV. Its a band with a magnet that you can put a hammer, nails, screws, bolts, or screwdriver on and thus have them within grasp. why didn't Billy Mays sell the dye used for his beard and hair? That stuff could have made a lot of money. Look at how perfectly blended that stuff is. Its like someone painted it on.
I got to thinking. What would I do with that. Then it came to me. Fly fishing. I could take that to the stream and put flies on it. I could use it when tying flies, keep scissors and bodkins on it. Bobbins and hair stackers. Extra hooks and even flies I've just tied. What about when I'm rowing my boat? I could put things on there like nippers and forceps. Brilliant. I had to have it.
I'll let you know how it works out. Maybe I'll bring it to the TPFR.org beer tie tomorrow night and put it to work.